Author
Novels
This series of novels revolve around JP Parker a 100 year old long time retired New York City private detective from the 30s, 40s, and 50s. The novels are his first person recollections as told to a young writer who is compiling them into book form. They deal with his most notable cases and the famous people who crossed his path.
Born in 1900 Parker grew up in Brooklyn idolizing the Dodgers and was a good enough ballplayer to be able to advance part way through the minor leagues. After his dream of playing in Ebbetts Field died he became a cop for a while before going out on his own. Finally after many years of living alone after an mysterious unspoken injury put him into a wheelchair he becomes friends with a man 75 years his junior. Their collaborations give him the chance to set the record straight on what really happened all those years ago.
The Other Cheek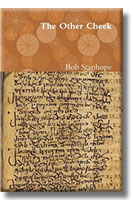 Parker is asked by an old friend to accompany him to Georgia to take care of the effects of his recently deceased brother. It doesn't take Parker long to realize that the relatively young brother didn't die of natural causes. Soon they're embroiled in a case that spans across the millennia all the way from the Vatican to New York to Georgia. What was the secret that his friend's brother was willing to die for and why are people from all over the world descending on one little southern town? And what is the surprising final twist that isn't revealed until the very last page?
top of page
Memoirs
That's enough about my books, now about me!
Growing Up Nerd
Growing Up Nerd is a collection of memories about my childhood that was spent in both the New York City suburb of Westchester County and at the New Jersey shore. It covers from about age 6 through my high school graduation in 1965. The stories range from lighthearted topics like collecting baseball cards, early TV, and sports to more serious ones such as how to make a way through the complexities of friendships and school while trying to find one's true self. The specifics might be unique to me, but anyone who was once young and naïve will recognize them.
Radio Daze
Radio Daze is a description of what might have been my mid-life crisis when I left a stable, secure career as a high school math teacher for a job in broadcasting. It details my experiences in radio (and a little TV) that started in college and then, after an 18-year break, continued until I was almost 50. Included are stories of good and bad bosses, eccentric and funny colleagues, strange business decisions, and the general chaos of being live on the air every day. While the specifics might be unique to me, the book makes it clear that broadcasting is a medium that attracts a very unusual group of people.
Radio Daze
In "Growing Up Nerd" Bob wrote about his childhood through high school and in "Radio Daze" he covered his career in broadcasting. Having enjoyed those books several folks asked for more. Their comments led to "Leftovers". These remaining stories deal with Bob's career in teaching, his years making music with his guitar, and his theater experiences. With regard to teaching he talks about funny students and amusing colleagues. In music you'll hear about his playing solo as well as his experiences with several musical partners and groups. The theater section contains a collection of tales about many of the plays Bob's been in over the years. While he's never made a lot of money or achieved what some folks might think of as great success, Bob has had quite a number of funny and, well, just plain weird experiences that should give you a smile.
top of page