Author
Novels
This series of novels revolve around JP Parker, a 100 year old long time retired New York City private detective from the 30s, 40s, and 50s. The novels are his first person recollections as told to a young writer who is compiling them into book form. They deal with his most notable cases and the famous people who crossed his path.
Born in the early part of the 1900s Parker grew up in Brooklyn idolizing the Dodgers and was a good enough ballplayer to be able to advance part way through the minor leagues. After his dream of playing in Ebbetts Field died he became a cop for a while before going out on his own. Finally after many years of living alone after an mysterious unspoken injury put him into a wheelchair he becomes friends with a young writer 75 years his junior who helps him turn his memories into books. Their collaborations give him the chance to set the record straight on what really happened all those years ago.
#4 - The Other Cheek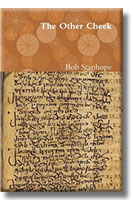 Parker is asked by an old friend to accompany him to Georgia to take care of the effects of his recently deceased brother. It doesn't take Parker long to realize that the relatively young brother didn't die of natural causes. Soon they're embroiled in a case that spans across the millennia all the way from the Vatican to New York to Georgia. What was the secret that his friend's brother was willing to die for and why are people from all over the world descending on one little southern town? And what is the surprising final twist that isn't revealed until the very last page?
top of page
Memoirs
That's enough about my books, now about me!

top of page